Soul Flow: Live Acoustic Guitar & Vinyasa
This class is taught by: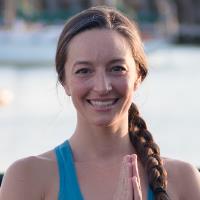 In our fragmented world, there are so few spaces where we are invited and encouraged to show up as our whole selves: mind, body, and spirit. My yoga practice and the classes I teach create that precious space.
I studied classical and contemporary styles of dance in my youth and have always found joy and grounding in moving meditation. I have had a regular asana practice for over 10 years and have always noticed how good yoga made my body feel. But as I ventured down my spiritual path, I woke up to how my inner world changed through my practice. I am grateful for all the lessons from my mat, and how they inform my life off the mat as well.
In 2013 I completed the 200- hour Yoga Teacher Training at Inner Strength Studios, and now I get great joy out of sharing the message of yoga in the studio and also at my full time job as a Speech Language Pathologist in a hospital. Mindfulness, breath, and meditation are profoundly healing both for people recovering from injury and for the rest of us! I'm so grateful for the opportunity to share my practice with the Black Crow Community. See you on the mat!
Come flow to the sweet sounds of acoustic guitar performed by fellow BCY yogi acoustic guitarist Ksenia. Brenda will lead you through an energetic vinyasa sequence with music that will carry you deeper in your practice. Class is appropriate for all levels, and beginners are always welcome. Online pre-registration is encouraged.