Restorative Aroma Yoga w/ Deep Relax
This class is taught by: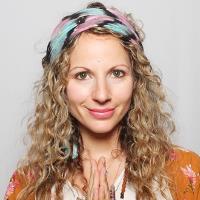 Vera Ventura is originally from Miami, where she immersed herself in the pulsating beats of Latin music and culture. She moved to NYC at 14 to pursue acting, but also became a staple in the club scene--dancing until late in the night. While at Skidmore College, she traveled to India and fell in love with yoga when she witnessed a 90-year old man standing on his head!
Since then it's been a journey of self-discovery, disciple, and acceptance--through recovery, yoga, buti yoga, meditation and the healing arts of aromatherapy & touch. She completed her masters from Harvard University in education in 2012, and focused on mindfulness.
Vera has also completed her 200-HR Vinyasa training at Prana Yoga, 200 HR- Buti Yoga Teacher training at Ritual Sweat Society, Mindfulness Based Stress Reduction (MBSR) training at UMASS Medical Center, Kids Yoga training, and is a certified doTERRA aromatouch specialist.
Off the mat, she enjoys watching documentaries, traveling, and spending time with her husband and 2 sparkly kids.
ALIGN the physical and mental by practicing stillness or gentle movement for extended periods of time set to relaxing music and optional aromatherapy in this 75 minute restorative yoga class.
Class will be followed by a deep relaxing savasana with optional massage. With modifications and props provided, this class is open to all levels.
Upcoming classes:
Sign Up

Wed

Oct 24 7:30 pm - 8:45 pm

with

Vera

Ventura




Sign Up

Wed

Oct 31 7:30 pm - 8:45 pm

with

Vera

Ventura




Sign Up

Wed

Nov 07 7:30 pm - 8:45 pm

with

Vera

Ventura




Sign Up

Wed

Nov 14 7:30 pm - 8:45 pm

with

Vera

Ventura




Sign Up

Wed

Nov 21 7:30 pm - 8:45 pm

with

Vera

Ventura




Sign Up

Wed

Nov 28 7:30 pm - 8:45 pm

with

Vera

Ventura




Sign Up

Wed

Dec 05 7:30 pm - 8:45 pm

with

Vera

Ventura




Sign Up

Wed

Dec 12 7:30 pm - 8:45 pm

with

Vera

Ventura




Sign Up

Wed

Dec 19 7:30 pm - 8:45 pm

with

Vera

Ventura




Wed

Dec 26 7:30 pm - 8:45 pm

with

Vera

Ventura




Wed

Jan 02 7:30 pm - 8:45 pm

with

Vera

Ventura




Wed

Jan 09 7:30 pm - 8:45 pm

with

Vera

Ventura




Wed

Jan 16 7:30 pm - 8:45 pm

with

Vera

Ventura




Wed

Jan 23 7:30 pm - 8:45 pm

with

Vera

Ventura




Wed

Jan 30 7:30 pm - 8:45 pm

with

Vera

Ventura




Wed

Feb 06 7:30 pm - 8:45 pm

with

Vera

Ventura




Wed

Feb 13 7:30 pm - 8:45 pm

with

Vera

Ventura




Wed

Feb 20 7:30 pm - 8:45 pm

with

Vera

Ventura