Yin Yoga
This class is taught by: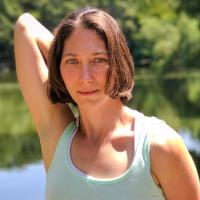 I am a Black Crow-bred yogi. I stumbled into my first yoga class when BCY first opened and it has been a beautiful relationship ever since. Yoga helps me stay grounded and real. It connects me to what is important as well as challenges me to step out of my comfort zone. I love the challenging physical asana side of yoga as well as the spiritual practice. Both help me to carry my practice off the mat.
The teachers at BCY inspired me so much that I decided to go for my certification and trained with Rolf Gates, fulfilling my 200 hour certification. I teach a strong, grounded practice that allows you to be yourself and tap into something deeper. I encourage my students to meet their minds and bodies with compassion and allow the effects of yoga to transform them slowly.
When I'm not teaching yoga, I teach high school theology and also run a school Yoga Club.
Yin yoga is the yoga that everyone needs, but don't know they need it. Yin is based on the Taoist concept of yin and yang, opposite, yet complementary. It is a natural compliment to our fast paced, yang lifestyles and Vinyasa practice. Yin Yoga has the same goals as Vinyasa yoga; to free the body and the mind, but the target is different. Yin targets the connective tissues, such as the ligaments, bones, joints, and fascia.
Yin poses are held longer, to give the body time to absorb the mental and physical benefits. Poses generally are held from one to five minutes, depending on the pose.
We will also begin and end with short guided meditations and breathing exercises, or pranayama. Yin is not restorative yoga, but it does have some of the same meditative elements. If you are looking to restore some balance to your life, to slow down, breathe, and restore some lost energy, this class is for you.