Power Hour
This class is taught by: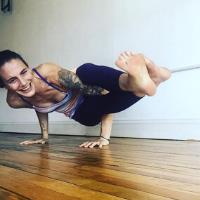 My practice began at Black Crow Yoga.
What started as a hopeful experiment to ease anxiety, transformed into a way of life and something that I find gratitude from every day. I believe yoga serves as our greatest reminder that we are always in transition. Moving from one situation to the next can feel unsettling and I am incredibly grateful that this practice provides the space to slow down. Yoga feeds a way to reconnect our mind and body, using our breath to stay grounded and present.
What brought me to try my first class, was the physical aspect, as well as the mental and emotional benefit yoga offers. The impact of yoga in my life continues to serve as a reminder to show up on my mat. I strongly believe that yoga delivers us the opportunity to get curious about what is going on in our lives. Yoga teaches us to stay patient and build strength, as we shift through our transitions on and off the mat. Yoga has given me a whole lot of freedom and continues to be a space where I can play, strengthen, process, and surrender. My intention as a teacher is to offer students that same freedom, to create exactly what they need, while encouraging them to challenge any doubts.
I completed my 200-hour Yoga Teacher Training with Jacqui Bonwell at the Canton Yoga Shala, and I am forever grateful for her and all my other teachers who have offered their teachings on and off the mat.
Join Sarah Apgar for "Power Hour". This power vinyasa class is a high-energy, cardio-based class that will awaken your body. This practice will challenge you no matter your experience in yoga or fitness.
Class is appropriate for all levels of yoga experience and beginners are always welcome. Prepare to sweat!!