Flow Foundations . $10 Community Class* (Drop-in Only, No Online Sign Up)
This class is taught by: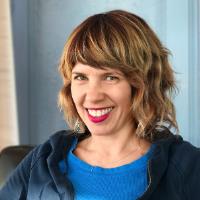 A dedicated student of yoga for over seventeen years, Jenna began instructing classes in 2007. Her experience in the field of massage therapy profoundly informs her instruction of yoga postures and conversely, her yoga practice continues to evolve her understanding and awareness of body mechanics and self care.
Jenna has extensive experience working with beginners. Specializing in classes that focus on foundational yoga postures and principles, she has led countless introductory classes and workshops throughout her teaching career. She has a welcoming spirit and the ability to structure lessons so that newer students feel included and successful.
In addition, Jenna is a trained and experienced practitioner of TM and traditional forms of mantra meditation, and is also a long-time student of Advaita Vedanta and Indian philosophy. All this study and experience lends itself beautifully to her commitment to supporting herself and others in managing stress and finding connection, comfort, ease and freedom in both body and mind.
The perfect place to begin!

Designed for those completely new to yoga, Flow Foundations focuses on the foundations of the vinyasa flow yoga practice, with emphasis on listening to our bodies and progressing at our own pace. More experienced yogis or those coming back to yoga after an injury or after time away also benefit from our focus on alignment and nurturing our practice.

Try a Flow Foundations class if you're looking for a slower-pace class and seeking to improve your understanding of the basics. Begin, refresh, or reawaken your practice here!

Community classes are our same great classes and same great teachers, just at a bargain price. $10 cash only, please. Memberships also welcome.

Community classes are drop-in only; online sign up is not available.
Upcoming classes:
Sign Up

Tue

Nov 21 9:00 am - 10:15 am

with

Jenna

Hussey