Acoustic Bliss: Live Music Flow with Seva
This class is taught by: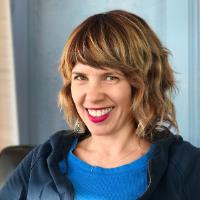 A dedicated student of yoga for over seventeen years, Jenna began instructing classes in 2007. Her experience in the field of massage therapy profoundly informs her instruction of yoga postures and conversely, her yoga practice continues to evolve her understanding and awareness of body mechanics and self care.
Jenna has extensive experience working with beginners. Specializing in classes that focus on foundational yoga postures and principles, she has led countless introductory classes and workshops throughout her teaching career. She has a welcoming spirit and the ability to structure lessons so that newer students feel included and successful.
In addition, Jenna is a trained and experienced practitioner of TM and traditional forms of mantra meditation, and is also a long-time student of Advaita Vedanta and Indian philosophy. All this study and experience lends itself beautifully to her commitment to supporting herself and others in managing stress and finding connection, comfort, ease and freedom in both body and mind.
Join us for our monthly live music series with BCY's house band, Seva, and Jenna leading the practice. Seva is a musical marriage of acoustic guitar, bass, and percussion; inspired by world music and originating in jazz, the music specifically follows the class the way an accompanist might follow a singer.
Class is appropriate for all levels of yoga experience, and beginners are always welcome.
Online pre-registration is encouraged for these popular classes as they will fill up in advance.