Becky Small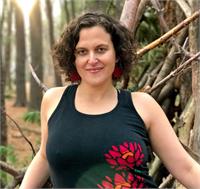 Yoga has changed me into a more positive, confident woman. Growing up, I was never the athletic type. I struggled with my weight and, in turn, my confidence. In 2001, I started working out - weight training, cardio, anything to get my heart rate up. I loved the rush I got but found that a lot of it was triggering pain in an old injury in my back. Then I stuck around the gym one day and took a yoga class. I loved how I felt after my first class. My muscles felt like they had worked but I did not feel sore in the way I had with previous exercises. I started to practice more and more, trying various teachers and styles. I was getting stronger and, at the same time, getting calmer. Yoga made me feel comfortable in my body in a way I had never felt. It changed my outlook on life in general and has allowed me to become a more optimistic person.
In 2008, I completed the YogaWorks 200 hour teacher training with Natasha Rizopolous and began teaching immediately. YogaWorks is based on a blend of Iyengar and Ashtanga yoga practices. I slowly started teaching more and more classes and moved away from my day job. I love seeing the changes in people, both adults and children, as they deepen their yoga practice. My classes tend to be a moderately paced, alignment- based vinyasa. Some classes are more gentle or vigorous than others. I have taught yoga in many different environments with students varying in skill level and ages, from toddler to senior citizens. Modifications are offered in all classes in order to be accessible to all students.
In addition to teaching yoga, I have a small art business making funky one-of-a-kind clocks. You can check them out at www.bsmalldesigns.com. I feel truly blessed to be able to combine my various passions to make a living. I love sharing the yoga practice with my students and hope to do so for years to come.
Becky Small is currently not instructing any classes.
*Community classes are drop-in only. Online sign up is not available
$10 cash or check only, please. Memberships also welcome.