Keith Herndon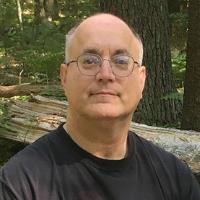 Yoga is all about finding happiness and peace. I came to Yoga about ten years ago through the Kripalu tradition where I trained to be a yoga teacher. Kripalu emphasizes being present in your body, connecting with what you feel in the present moment, and reaching into your center via breath and movement.
Each person is different. Each body is different. The body that you live in is unique and wonderful and deserves your deepest love and care. When I teach I always encourage students to let their own inner wisdom guide them thru the flow – as a teacher, I offer suggestions, but your own being is your truest guide.
My wife Janice and I have being living in Lexington for 23 years and we have two grown sons. While my practice focuses more on yoga, her practice focuses more on meditation. Yet we both love the community at Black Crow.
Black Crow Yoga is a wonderful studio where everyone can just be themselves and enjoy yoga and each other.
Keith Herndon instructs the following:
Join us for an innovative vinyasa class with Keith Herndon, accompanied by live music from violinist Meredith Cooper.

Meredith will provide her own unique blend of jazz, classical and folk improvisations on her 5 string electric violin, which will move to the flow of class. We will end our practice with a special extended savasana.

Class is appropriate for all levels of yoga experience and beginners are always welcome.

Online pre-registration is encouraged for these popular classes as they will fill up in advance.