Keith Herndon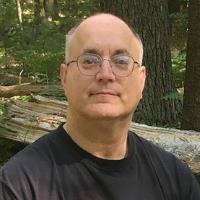 Yoga is all about finding happiness and peace. I came to Yoga about ten years ago through the Kripalu tradition where I trained to be a yoga teacher. Kripalu emphasizes being present in your body, connecting with what you feel in the present moment, and reaching into your center via breath and movement.
Each person is different. Each body is different. The body that you live in is unique and wonderful and deserves your deepest love and care. When I teach I always encourage students to let their own inner wisdom guide them thru the flow – as a teacher, I offer suggestions, but your own being is your truest guide.
My wife Janice and I have being living in Lexington for 23 years and we have two grown sons. While my practice focuses more on yoga, her practice focuses more on meditation. Yet we both love the community at Black Crow.
Black Crow Yoga is a wonderful studio where everyone can just be themselves and enjoy yoga and each other.
Keith Herndon instructs the following:
Vinyasa Flow to Music classes focus on connecting breath to movement through a vigorous, continuous sequence of postures. We stretch and strengthen our body and spirit, and we calm the mind.

We practice heated, not hot yoga. The studio is heated to approximately 80 degrees. The studio will feel comfortably warm, allowing you to safely stretch deeply. You will enjoy a detoxifying sweat from the athletic nature of the yoga. You will leave refreshed and renewed. Classes are set to music and teachers prepare their own playlists. Classes will vary to reflect the unique style and personality of each teacher.

This class is appropriate for all levels of experience, and beginners are always welcome. If you are new to yoga, or if you have an injury or limitation, please let the teacher know, so he/she can offer modifications and give you extra support.