Julia King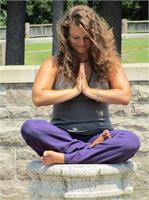 My practice began in 2002 and I've been teaching yoga since 2005. I obtained a Bachelor's Degree in Physical Education, but deviated from this path due to injuries I picked up during my years in college playing Rugby. Gym workouts furthered my imbalances to injuries and were far too mundane. I discovered amazing weight management and strengthening through Vinyasa yoga and have furthered my studies since then to discover incredible flow, lightness, and depth that is truly all around us and especially within. I went back 50 years in age in less than a year of practice, and I continue to grow. Pain was the story back then. Joy, fun, and lightness are now.
Since 2002 I've practiced various styles ranging from Restorative yoga to Ashtanga to Vinyasa to Power, but I found my passion to be in my eclectic style with the desire to bring the student into his or her own body. When this awareness is activated, many wonderful things can and do happen. I've realized the calm and peace yoga brings after a continued practice and I want to share this magic with as many as I can. Each class is based on the energy of the moment, and I enjoy bringing fun and lightness to my challenging class. The music chosen is usually non-lyric (or light) and yoga-rhythmic or soft to flow with the class. Although my classes may be challenging, the intention behind them is to encourage students to honor their body by resting when they need, and adversely pushing when they feel they should. I always teach to the beginner.... as we are always just beginning.
My Yoga education includes training and Study with Taylor and Phillipe Wells, Sara Meeks, Gurmukh, Ana Forrest, David Vendetti, Shiva Rea, Jennifer Yarro (Thai Massage) and deeper anatomy and movement study with Julie Gudmestad, and Doug Keller. I was certified with the Yoga Alliance since shortly after teaching, currently an E.R.Y.T (experienced yoga teacher), I am now nearly complete with my 500 hour certification with Daniel Orlansky (of Meridian Yoga Flow). As a Reiki Master and teacher, I bring energy work into the classroom (perhaps from a distance if not on contact). I also now practice Thai Yoga Massage and LOVE the beautiful massage dance of energy, compression, immense healing, and lazy-mans-yoga that it is. During Thai Yoga Massage, I practice Metta (loving kindness energy work - standard for Thai Yoga Massage) and Reiki. Recently certified in Diving Sleep Yoga Nidra (Jennifer Reis), I also offer deeper healing services.
Ground, Glow, Shine from your inner voice, and therefore co-create. If not all of the above, then one. If not in one day - then maybe sooner than you ever thought. However it is ALL attainable with continued regular visits to that little rectangle on the floor.
Julia King instructs the following:
Vinyasa Flow yoga to music is a vigorous, athletic style of yoga. We focus on connecting breath to movement through a continuous sequence of postures. We stretch and strengthen our body, mind, and spirit!

We practice heated, not hot yoga. The studio is heated to approximately 80-85 degrees. It will feel comfortably warm, allowing you to safely stretch deeply, and you'll sweat from the athletic nature of the yoga. You'll leave feeling refreshed and renewed.

Classes are set to music and teachers prepare their own playlists to reflect their unique styles.




Divine Sleep Yoga Nidra has the power to transform us at our core. This ancient tantric meditation systematically guides us through each layer of being, our "koshas." These layers include the physical, energetic, mental, emotional, and spiritual, making this a healing practice inclusive of our whole being.

Done mostly lying down, this is an enjoyable and easy practice. Yoga Nidra is more accessible than most forms of yoga since all it requires is to lie down and listen.

In Yoga Nidra, the state we feel is deep relaxation, similar to that deep relaxed feeling of acupuncture or hypnosis.... our theta waves are engaged. In this state, our parasympathetic nervous system switches on (our relaxation response), and that is where true healing occurs. We can create a healing affirmation, and because it is done without any of our normal chatter to interfere, the seed is truly planted.

In this Yoga Nidra class there will be a few minutes to explain our koshas and how we leave our superficial layers to go deep into our core being. Then there will be a little movement to ground us, followed by deep meditation while lying down (some may chose to sit in order to not fall asleep).

Pack your bags to take a vacation inward. Your body, mind, and spirit will thank you!

Please note for Yoga Nidra: in addition to your yoga mat, bring a blanket or large towel with you to class.