Robin Shaw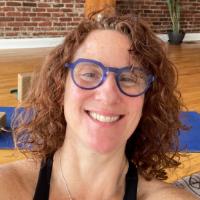 New beginnings! Teaching at Black Crow feels like that for me. I have just returned back to the Boston area after the transformative journey of falling in love, and living in Montreal for the past two years. It is wonderful to bring my sweetie back to my hometown, the place where I fell in love with yoga, bodywork and movement almost 20 years ago. So, returning full circle offers me the opportunity to approach my teaching and my practice with a beginner's mind, a fresh attitude, and a body and heart that are returning to this deep practice in a whole new way.
Yoga has been a place where I have always felt at home, and always been challenged in the most peaceful way. It has been a source of inner listening and observation, a place to cultivate incredible energy, strength, power, as well as compassion and vulnerability. I hope to share that with my students through my teaching!
My classes tend to be a balance of flow and restoration, a sweaty challenge, a soothing opportunity to breath more deeply, and relax the mind and breath, a great stretch, inner and outer. I like to include important alignment cues, so my students can stay safe and learn a bit about their bodies.
My husband and I just moved to the town of Arlington, right on Spy Pond and the bike path. We're loving it here, and it feels perfect to be joining the Black Crow team!
Robin Shaw instructs the following:
Vinyasa Flow yoga to music is a vigorous, athletic style of yoga. We focus on connecting breath to movement through a continuous sequence of postures. We stretch and strengthen our body, mind, and spirit!

We practice heated, not hot yoga. The studio is heated to approximately 80-85 degrees. It will feel comfortably warm, allowing you to safely stretch deeply, and you'll sweat from the athletic nature of the yoga. You'll leave feeling refreshed and renewed.

Classes are set to music and teachers prepare their own playlists to reflect their unique styles.