Katie Kelley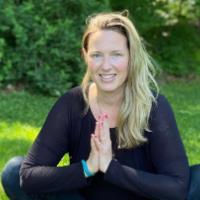 I grew up in a home where my mother quietly weaved yogic thinking into her daily life. At the time, I didn't understand it. About twelve years ago a friend brought me to a yoga class, and it slowly started rose to the surface for me. I have been practicing ever since.
Yoga is the reminder for me that I have arrived in my life. It's easy to get caught up in the past, the future or what is going on around me in the present. When I get on my mat, I am experiencing just this moment.
I am a middle school art teacher. I teach students how to paint, draw, sculpt, etc., but the real work I do is teaching them to think, reflect, experience and express. The time I spend on my mat prepares me for that crucial layer of who I am and what I do.
I have had the extraordinary experience of assisting for Becky Small's classes, and consider her, and many of the teachers at Black Crow, mentors. The energy that the Black Crow community blankets me with is what fuels this lovely journey.
My teacher training was through Yoga of Energy Flow with Liz Owens and Daniel Orlansky and I am an Alignment Based Vinyasa teacher. I weave aspects from many kinds of yoga into my teaching.
Katie Kelley instructs the following:
Vinyasa Flow yoga to music is a vigorous, athletic style of yoga. We focus on connecting breath to movement through a continuous sequence of postures. We stretch and strengthen our body, mind, and spirit!

We practice heated, not hot yoga. The studio is heated to approximately 80-85 degrees. It will feel comfortably warm, allowing you to safely stretch deeply, and you'll sweat from the athletic nature of the yoga. You'll leave feeling refreshed and renewed.

Classes are set to music and teachers prepare their own playlists to reflect their unique styles.