Emily Chicojay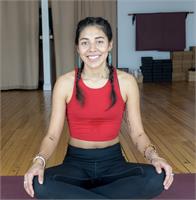 I started practicing yoga when I first began college through the university's fitness classes. Soon after, I sought out studios to attend classes on a more regular basis and found that the benefits of these classes were extending to other aspects of my life. As I've moved from place to place yoga has always been the constant in my life, whether I attend a class at a studio or make time to flow on my own. Despite all the ups and downs of life, yoga provides a grounding connection to your body and mental clarity to move through the world with strength and resilience. I seek to provide a space for all students to enjoy and explore these experiences.
I received my 200-hr YTT at It's Yoga Nica in El Ostional, Nicaragua, a program based in the Ashtanga practice. I offer classes that include creative flows and a restorative cool down. Whether you're a beginner or advanced student, you'll find modifications and suggestions that suit your body's needs.
Off the mat, I'm a MPH in Urban Health candidate at Northeastern University. I hope to advocate for intersectional sexual health and reproductive rights and work toward diminishing the prevalence of social and health disparities.
Emily Chicojay instructs the following:
The perfect place to begin!

Designed for those completely new to yoga, Flow Foundations focuses on the foundations of the vinyasa flow yoga practice to music, with emphasis on listening to our bodies and progressing at our own pace. More experienced yogis or those coming back to yoga after an injury or after time away also benefit from our focus on alignment and nurturing our practice.

Try a Flow Foundations class if you're looking for a slower-pace class and seeking to improve your understanding of the basics. Begin, refresh, or reawaken your practice here!

Community classes are our same great classes and same great teachers, just at a bargain price. $10 cash only, please. Memberships also welcome.

Community classes are drop-in only; online sign up is not available.

Classes are set to music and teachers prepare their own playlists to reflect their unique styles.




Vinyasa Flow yoga is a vigorous, athletic style of yoga. We focus on connecting breath to movement through a continuous sequence of postures. We stretch and strengthen our body, mind, and spirit!

The studio is heated to approximately 80 degrees. It will feel comfortably warm, allowing you to safely stretch deeply, and you'll sweat from the athletic nature of the yoga. You'll leave feeling refreshed and renewed.

Each class is a unique experience. Our teachers have a variety of backgrounds and perspectives. Classes will vary to reflect the unique style and personality of each teacher. That's the beauty of flow yoga!

Class is appropriate for all levels of experience and beginners are always welcome. If you are new to yoga or have an injury or limitation, please let the teacher know so he/she can offer modifications and give you extra support.