Karen Chio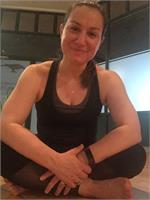 I took my first yoga class in 1998 and I have continued to find a way back to my mat ever since. As a childhood gymnast and collegiate springboard diver, I was first attracted to the acrobatic aspects of asana. While this is something I still enjoy, yoga is so much more than a physical practice for me now. Yoga is showing up—with love and acceptance—in the body and mind I am in on this very day, and working toward strength and ease. This means letting go of expectations, exploring both the comforting and the challenging, and treating oneself and others with kindness. As a teacher, I hope to support fellow yoga practitioners in this journey.
In 2008, I completed my 200-hour Yoga Teacher Training through YogaWorks with Natasha Rizopoulos. I've been a regular student at Black Crow Yoga since 2014, and I am thrilled to teach, practice, and grow in such a lovely, loving community.
Karen Chio instructs the following:
Vinyasa Flow to Music classes focus on connecting breath to movement through a vigorous, continuous sequence of postures. We stretch and strengthen our body and spirit, and we calm the mind.

We practice heated, not hot yoga. The studio is heated to approximately 80 degrees. The studio will feel comfortably warm, allowing you to safely stretch deeply. You will enjoy a detoxifying sweat from the athletic nature of the yoga. You will leave refreshed and renewed. Classes are set to music and teachers prepare their own playlists. Classes will vary to reflect the unique style and personality of each teacher.

This class is appropriate for all levels of experience, and beginners are always welcome. If you are new to yoga, or if you have an injury or limitation, please let the teacher know, so he/she can offer modifications and give you extra support.