Karen Chio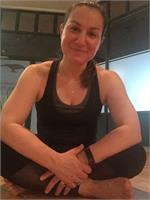 I took my first yoga class in 1998 and I have continued to find a way back to my mat ever since. As a childhood gymnast and collegiate springboard diver, I was first attracted to the acrobatic aspects of asana. While this is something I still enjoy, yoga is so much more than a physical practice for me now. Yoga is showing up—with love and acceptance—in the body and mind I am in on this very day, and working toward strength and ease. This means letting go of expectations, exploring both the comforting and the challenging, and treating oneself and others with kindness. As a teacher, I hope to support fellow yoga practitioners in this journey.
In 2008, I completed my 200-hour Yoga Teacher Training through YogaWorks with Natasha Rizopoulos. I've been a regular student at Black Crow Yoga since 2014, and I am thrilled to teach, practice, and grow in such a lovely, loving community.
Karen Chio is currently not instructing any classes.