Kimberly Giardino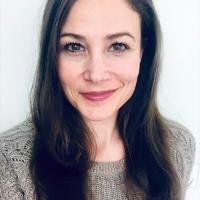 Kimberly first walked into a yoga studio in 2007 at the advisement of a physical therapist. She was recovering from a shoulder injury. In that first class Kimberly received more than she ever expected. It was the first time since competitive swimming as a child she was able to tune into her breath, and she was immediately hooked. With consistent practice and medical treatment she recovered from her injury and has been practicing yoga ever since. In the subsequent years, yoga has been a constant, a gift, which she has watched spread into every area of her life. Her practice has since helped her to face adversities with grace, courage and resiliency. Today, she feels incredibly grateful to share the practice of yoga as a teacher.
Kimberly's teaching approach involves creating a learning environment that is safe, non-competitive, fun and loving. In just one class, students will likely sweat, meditate and laugh out loud as they learn to tune into their inner-self. Kimberly is known for her creative sequences, concise alignment cues, hands-on assists, authentic storytelling, and Divine Sleep Yoga Nidra. Every class is challenging yet accessible to both beginners and experienced practitioners, and those working with injuries. She works with students at every level to offer them the space for personal discovery, both on and off the mat.

Kimberly is thrilled to be a part of the Black Crow Yoga community and teaching team. She also feels incredibly grateful to have studied with a variety of talented yoga teachers in the Boston area since 2007. In 2017, Kimberly completed her 200-hour training at Kripalu Yoga & Health Center with Yoganand Michael Carroll and Cristie Newhart. Shortly after, she completed her Divine Sleep Yoga Nidra Teacher® training with Jennifer Reis. Kimberly is also First-Aid, CPR & AED certified. Oh, and if you can't seem to find her, she is likely traveling, scuba diving, practicing yoga somewhere or snuggled up with her cat Nitrox.
Kimberly Giardino instructs the following:
We believe that yoga should be accessible and affordable.

Our $10 Drop-ins are the same great classes and teachers, but at a bargain price; $10, cash only please. Memberships and class cards are also welcome.

These classes are drop-in only.

Online sign-up is not available for these classes.




Join Kimberly as she guides you through an evening of self-love and slow vinyasa flow. Relax and recharge through a heart-opening sequence and then unwind in a restorative savasana. Experience self-care right on your mat.

Kimberly shares some of her favorite healing modalities with you - easy to follow guided meditation (Divine Sleep® Yoga Nidra), essential oils and self-massage. Designed to provide you the space and tools to nurture, support and care for your self. This bite-sized workshop and class helps you to relax, refresh and calm your mind.




Vinyasa Flow to Music classes focus on connecting breath to movement through a vigorous, continuous sequence of postures. We stretch and strengthen our body and spirit, and we calm the mind.

We practice heated, not hot yoga. The studio is heated to approximately 80 degrees. The studio will feel comfortably warm, allowing you to safely stretch deeply. You will enjoy a detoxifying sweat from the athletic nature of the yoga. You will leave refreshed and renewed. Classes are set to music and teachers prepare their own playlists. Classes will vary to reflect the unique style and personality of each teacher.

This class is appropriate for all levels of experience, and beginners are always welcome. If you are new to yoga, or if you have an injury or limitation, please let the teacher know, so he/she can offer modifications and give you extra support.




All-Levels Gentle Yoga is a compassionate and accessible yoga practice that moves at a slower pace. This allows you plenty of time to explore breath work, gentle movement, longer holds, supportive rest and the mind-body connection - meeting you wherever you are in your yoga journey.

Flow through a gentle sequence, hold basic postures longer and learn to deepen your practice. Props are sometimes used and modifications are given for anyone working with injuries or special concerns.

This class ends with a long shavasana and most classes typically include guided meditation (Divine Sleep Yoga Nidra) providing time for total relaxation and rest. Studies have shown just 20 minutes of Divine Sleep Yoga Nidra equals three hours of deep restorative sleep. In addition to your mat, please bring a small blanket or beach towel to class.

This easy and accessible class is open to all – a great fit for beginners and experienced yogis alike.