Vera Ventura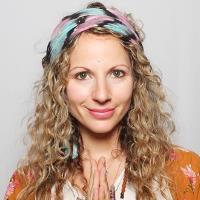 Vera Ventura is originally from Miami, where she immersed herself in the pulsating beats of Latin music and culture. She moved to NYC at 14 to pursue acting, but also became a staple in the club scene--dancing until late in the night. While at Skidmore College, she traveled to India and fell in love with yoga when she witnessed a 90-year old man standing on his head!
Since then it's been a journey of self-discovery, disciple, and acceptance--through recovery, yoga, buti yoga, meditation and the healing arts of aromatherapy & touch. She completed her masters from Harvard University in education in 2012, and focused on mindfulness.
Vera has also completed her 200-HR Vinyasa training at Prana Yoga, 200 HR- Buti Yoga Teacher training at Ritual Sweat Society, Mindfulness Based Stress Reduction (MBSR) training at UMASS Medical Center, Kids Yoga training, and is a certified doTERRA aromatouch specialist.
Off the mat, she enjoys watching documentaries, traveling, and spending time with her husband and 2 sparkly kids.
Vera Ventura instructs the following:
ALIGN the physical and mental by practicing stillness or gentle movement for extended periods of time set to relaxing music and optional aromatherapy in this 75 minute restorative yoga class.

Class will be followed by a deep relaxing savasana with optional massage. With modifications and props provided, this class is open to all levels.




Shakti Yoga Flow is an invigorating practice that blends the elements of yoga, dance and functional fitness. On the surface, a Shakti Yoga Flow class is filled with fun improv dance sets, mixed with creative vinyasa flow and breath work, while motivating music infiltrates the room. These movements are cleansing and they open our chakras. In turn, we re-emerge more confident, vibrant and more aligned. Shakti means power or empowerment, which is what this practice inspires within us.

Shakti Yoga Flow will challenge you no matter what your experience in yoga or fitness, and is guaranteed to shake up and awaken the inner God and Goddess that reside within us all.




Join us for our annual Thanksgiving morning practice! The Flow Before the Feast is an energizing, playful Flow to Music that will leave us centered and refreshed, ready to begin our holiday celebrations!

Classes will be appropriate for all levels of experience and beginners are always welcome.

Online pre-registration is required. Sign up early, as these popular classes will fill up!




Vinyasa Flow to Music classes focus on connecting breath to movement through a vigorous, continuous sequence of postures. We stretch and strengthen our body and spirit, and we calm the mind.

We practice heated, not hot yoga. The studio is heated to approximately 80 degrees. The studio will feel comfortably warm, allowing you to safely stretch deeply. You will enjoy a detoxifying sweat from the athletic nature of the yoga. You will leave refreshed and renewed. Classes are set to music and teachers prepare their own playlists. Classes will vary to reflect the unique style and personality of each teacher.

This class is appropriate for all levels of experience, and beginners are always welcome. If you are new to yoga, or if you have an injury or limitation, please let the teacher know, so he/she can offer modifications and give you extra support.




This workshop taught by Vera Ventura, RTY-500 will focus on yoga poses, essential oils, and mindset that help reduce stress and toxicity in the body, as well as releasing stuck emotions.

This 90 minute workshop will leave you feeling light, free and overflowing with gratitude. This Workshop is appropriate for all levels of yoga experience.